ACCESSORIES – Belts, Pulleys, Fuel Pump, etc.
Idler Pulleys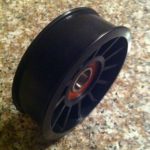 $27 – 46 – Idler Pulleys for Vortech, Powerdyne and more
Pulleys for Vortech, Powerdyne

Pulleys have different shoulder lengths, for different applications. Most of these have the longer shoulder commonly found on 'many' Vortech installations, but each install is NOT the same! However, we can machine down, for Powerdyne installs, or other simple boss / shoulder reduction requests, at no charge, if you will Please let us know your length requirements / questions BEFORE your order.
$115 – Pulleys for Vortech and Powerdyne – 6, 7, or 8 rib belt, 20mm bore
Pulleys for ProC

$115 – Pulleys for ProC or NOVI 2000/1000 – 8 or 6 rib belt, 0.875″ (22.2mm) bore
Ford Emblem Reproductions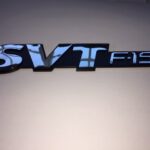 $25 – Repro SVE F150 Tailgate emblem / Fender badge
Crank Pulleys


$250 – 86-95 Ford Mustang 5.0L / 92-97 F150, F250, F350 302/351 5.0/5.8L Powerdyne crank pulley & spacer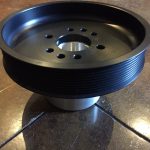 $325 – Aftermarket aluminum Billet crank pulley for 6, 8, or 10 rib belt
SERPENTINE DRIVE BELTS

$68 – Double-sided 6 rib belt for VF Engineering VW VR6 kit – 1420 cm (56 in.)
$72 – Double-sided 6 rib belt for V6 F-body using Powerdyne – 2616 cm (103 in.)
Fuel Pump

$125 – FUEL PUMP (top). Same specs. as Vortech T-rex. 255 lph / 70gph@85psi / 38gph@125 psi
Oil Lines
$75 – Oil Lines kit (includes 2′ length of 3/8″ pressure hose + 1/2″ drain hose & brass fittings)
Oil Injector
$40 – Vortech V1, V2, V5, V7, V9 Oil Injector, Paxton NOVI (specify model)
Bypass Valve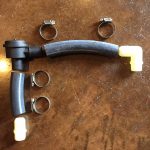 Universal 1″ bypass valve and/or kit. (1 straight and 1 – 90 degree fitting included)
Flex Tubing


$11-13 per foot – 3-1/2″ or 4″ ID Flexible tubing