Installation Tips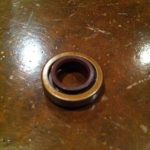 1) PTFE/Viton hybrid seal – advance shaft into case bore, slowly, until lip just touches step, then use a small dull flat tool to help the lip around the step in the shaft, then carefully advance shaft a little more, check, repeat process above, until lip is properly around shaft.


2) Pressing Mechanical seal in: Use an appropriate tapered tool (example: some 1/2″ extensions will work) that will only press on the metal ID. Pressing on the black carbon sealing material will crack it !
NEXT, you are shooting for setting the seal so that it rides mid way in it's travel, when installed. I think the best way to set depth, is:
1)Note where the old seal sits in the bore, before removing. Install the new seal as close as you can to that point, then 2) place the impeller on top of seal (with thrust washer underneath too), the OD of impeller base should stand up above 'flush' with the case no more than half of the travel of the spring, 3) carefully adjust depth of seal as necessary to achieve this.
EXAMPLE – Let's say the seal has about 0.050″ travel, and the seal sat up 0.025″ above flush, before spring was pressed down – so that way, when installed it is pushed down approximately mid-way in it's travel.


3) Proper installation of thrust bearings. Arrows (highlighted in blue) must point toward each other, AND/OR thicker flanges with words on outer races will face away from each other.